***50% off + Free Shipping Worldwide***
How much time do you waste looking for right spice or cleaning product? Say goodbye to a messy kitchen or a chaotic cabinet!
The Rotating Spice Rack will help keep everything tidy so you easily find whatever you're looking for. Whether it's storing a bottle of your favorite lotion or a salt shaker, the Rotating Spice Rack makes it convenient to cook, put things together, and more! 
By turning the turntable, you get easy access to your stored items. You also have the option to stack shelves for additional storage space.
Features
Innovative Storage This innovative storage solution has a built-in turntable that allows easy access to anything you put in it. Instead of reaching further into your fridge or cabinets, just turn the caddy and bring the item to you.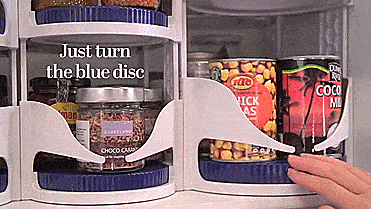 Versatile, Compact Design Perfect tool for organizing every room in your home. Take advantage of all possible space. No more unorganized cabinets through your house. Adapt to any space so you can store spices, spray cans in your garage, or other items.
No More Back Pains It's great for people who have bad backs and have a hard time reaching into a deep fridge or cabinet. This will save you a lot of hassle trying to find those little things in packed areas in your kitchen.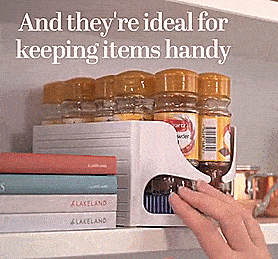 Time Saving Easily rotate with the tip of your finger. And since they're connected, the items that you scroll through will make their way all the way around the edge. Just keep sliding your finger, and each item will eventually make its way to the front for you to easily access.
A great space saver that will help you to take advantage of the space, as they're completely stackable. With such easy access, it makes cooking, cleaning, organizing and everyday living that much easier! Perfect gift for friends and love ones!
Shipping & Handling
Your package will contain: 1 x Rotating Spice Rack. 
Order processing takes 1-3 business days and 4-7 business days for delivery to US, UK, Europe, Canada, Australia and New Zealand, Singapore and Malaysia. For all other countries, it could take 2-3 weeks for delivery.